It is difficult to start your day with a stiff neck. It can make simple movements painful. Sleeping position, the type of pillow you use, or other sleep issues causes sore neck. To resolve the issue of neck pain after sleeping, first, address the issue of what caused it.
REASONS YOUR NECK HURTS AFTER SLEEPING
If you have no history of neck pain, the main reason for discomfort is your sleeping position which tightens your neck muscles and causes pain.
WHY DOES NECK PAIN OCCUR AFTER SLEEPING?
Pillow :- Sleeping position and what kind of pillow you use, can trigger sore neck and other kinds of pain. Neck pain and strain may result from a pillow that doesn't provide adequate head and neck support. Your head may be cradled by feather or memory foam pillows at sleep, maintaining a neutral spine and neck.
Sudden movement :- Your neck muscles may become sore from sudden movements like standing up too quickly.
Injury :- Some injuries like whiplash may take many hours or days to develop pain and stiffness. You may feel okay after an injury to your neck, but wake up the next morning with a sore, stiff neck.
Other causes of pain :- Other causes that can cause neck pain include :
Working too long at a computer or sitting too long in one position.
Bad posture throughout the day.
Osteoarthritis in upper spinal joints.
Nerve compression.
THINGS TO DO WHEN YOU SLEPT ON YOUR NECK WRONG
You can use a heat pan or hot water bottle to alleviate pain.
Apply ice or cold packs to reduce inflammation in your neck muscles.
Take Advil or Tylenol to ease neck pain.
Do some gentle exercises. This may keep blood flowing to the neck.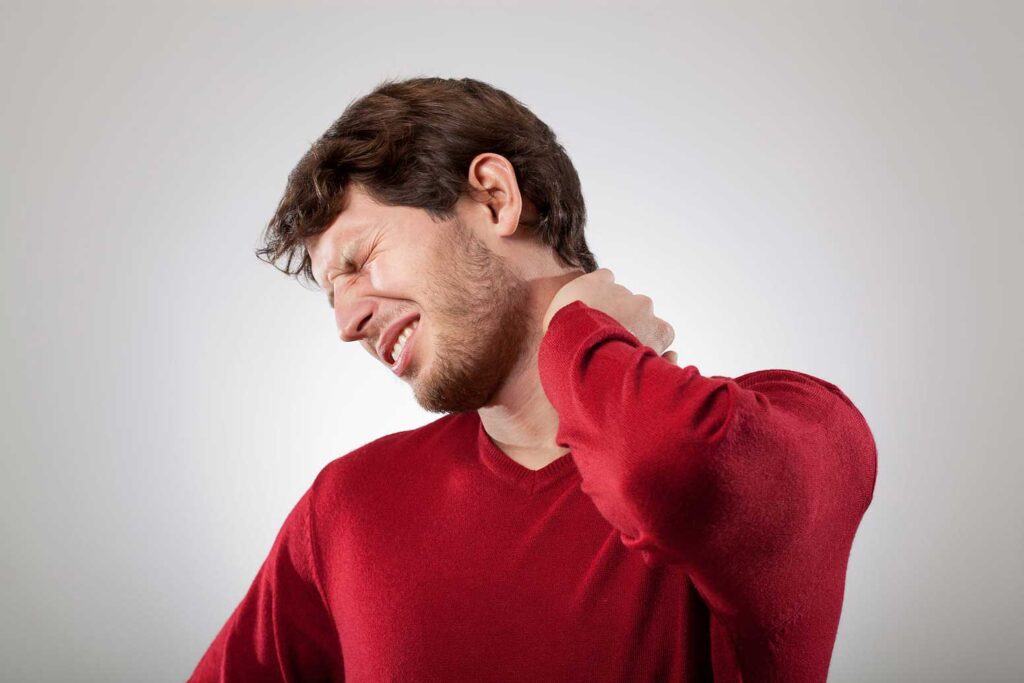 HOW TO FIX NECK PAIN FROM SLEEPING?
Change your pillow :- Choose a firm pillow, not too large. Your head will remain level with the rest of your body and the neck will remain straight. Side sleepers can use a larger pillow. Don't use a pillow that is too stiff.
Sleep on your back or side :-Sleeping on your stomach can result in neck issues and can cause excess pressure on the lungs. Sleeping on your back or side position reduces stress on the neck muscles.
Stretching :- Exercises can make neck muscles stronger and more mobile, reducing neck muscular pain. It's okay if some stretches can't be fully performed because of pain and stiffness in the neck.
Maintain the temperature :- Sleeping under a fan, vent, or an open window for the night can cause a stiff neck the next day. Some people may benefit from arranging the sleep environment to prevent cool air from blowing directly onto their neck, although the medical literature has not examined this topic in detail.
Medium firm mattress :- Choose a medium firm mattress that can support your neck and back.
Instead of bending your neck, hold your phone at eye level.
Pain assessment :- The pain and stiffness can be evaluated to see if they are getting better after using these stiff neck cures. It is advised to avoid any strenuous activities for the day and limit movements that increase pain if neck stiffness still significantly restricts movement in one or more directions or is still causing severe pain. Walking and other forms of exercise are still advised because complete bed rest may worsen the discomfort and stiffness in the neck.
WHEN TO VISIT A DOCTOR
Consult a doctor or visit Specialty Care Clinics if you have neck pain along with the following symptoms :
Fever
Headache
Weakness in legs
Shortness of breath
Nausea
Neck stiffness
Chest pain
Numbness in your limbs
Pain that spreads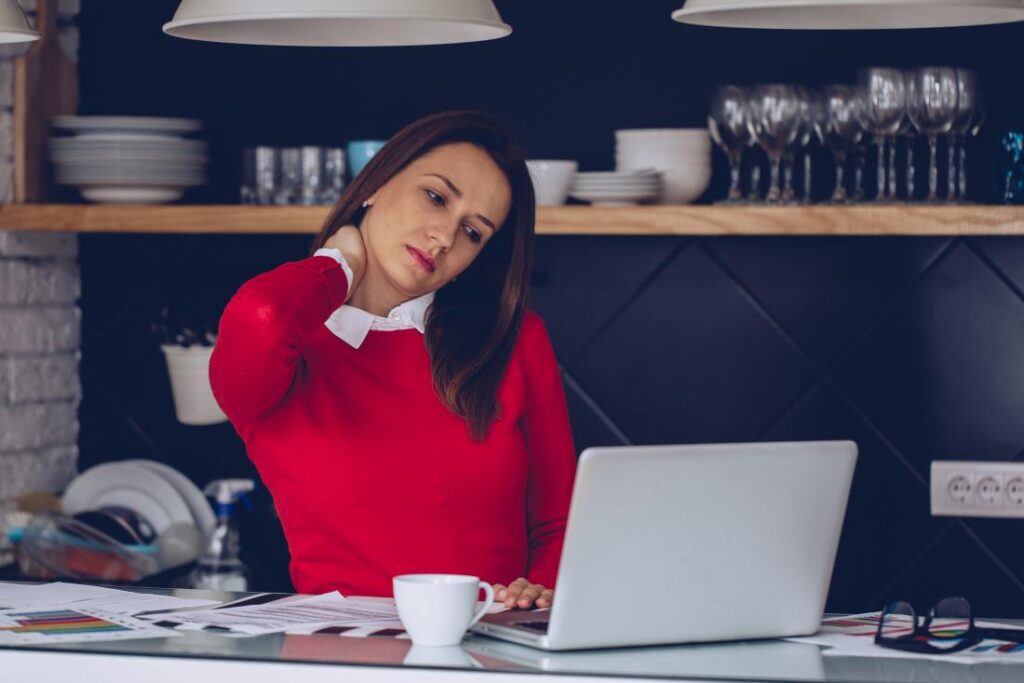 NECK STRENGTHENING EXERCISES
Neck Turn
Stand straight. Keep your neck and back straight.
Turn your head to the left.
Hold for 10 to 20 seconds. Then slowly turn to the right and hold for 10-20 seconds.
Repeat the procedure 3-4 times on each side.
Neck Stretch
Keep your body straight.
Push your chin forward and hold for 5 seconds.
Push your chin backward from the same starting position for 5 seconds.
Stretch five times in both the forward and backward directions.
Dumbbell shrug
Stand and keep your feet shoulder-width apart, chin up, and straight neck.
Move your shoulders slowly up towards your ears while holding a dumbbell or any similar object in each hand.
Hold for a moment and bring your shoulders back down as you exhale.
You can also do the simple exercises given below. They can increase the flexibility and strength of your neck.
Rotations
Standing or sitting straight-backed with your head directly over your shoulders.
Your head should be turned to the left as far as possible.
Hold for 30 seconds.
Then turn your head to the right side and hold for 30 seconds.
Shoulder circles
While standing, raise your shoulders and rotate them in one direction.
Repeat in the opposite direction after lowering your shoulder.
Head Lifts
Put your feet on the floor and lay on your back with your knees bent.
Raise and lower your head but don't lift your shoulders.
These steps can also be performed while resting on your side or stomach.
If you have severe neck pain, don't exercise. Make an appointment with us to get pain relief.
---