WHAT IS VERTEBROPLASTY?
Vertebroplasty is a spinal surgery that repairs spinal fractures. Vertebroplasty helps reduce the pain caused by a spinal fracture. With the help of this surgery, bone cement [hydroxyapatite] is injected into the broken bones of the spine due to osteoporosis.
This is minimal spine surgery Vertebroplasty surgery is recommended to relieve extremely painful spine in people with severe fractures. This can increase the mobility of the spine as well as reduce the use of pain medication which in turn can make your spine more stable.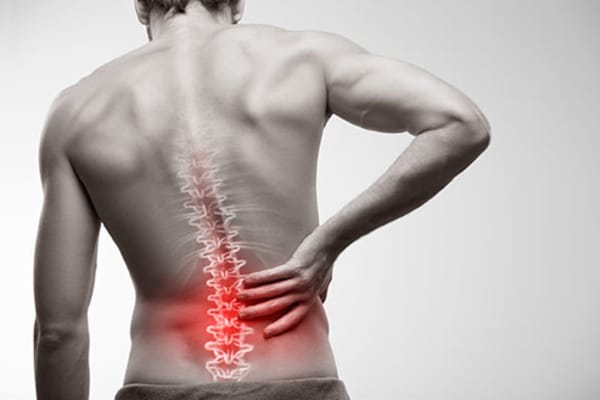 BENEFITS OF VERTEBROPLASTY
Vertebroplasty is a spinal surgery performed in case of spinal fractures. This procedure helps in reducing the pain resulting from a spinal fracture. It is done by making a small incision on the skin. This procedure is used for malignant or osteoporotic fractures.
This procedure is known to have the following benefits –
Increase patient mobility
Prevent immobilization
Avoid pain
Prevent vertebral collapse
Reduce dependency on medicines and side effects
Pain reduction.
In some cases painkillers are not even needed.
Increases efficiency.
Reduces pain by giving relief to fractures. Prepares for everyday activities.
Reduces risk Osteoporosis
WHEN IS VERTEBROPLASTY SURGERY NEEDED?
The doctor, pain physician, or neurosurgeon may recommend you Vertebroplasty surgery in the following situations:
Spine fracture is not healing despite home or other remedies such as pain relievers, calcium, vitamin D, other medicines or rest, persistent pain persists or non healing fractures
A broken spine can lead to persistent health problems, such as severe pain due to osteoporosis, shortness of breath, trouble walking upright, emotional or social conditions.
THE INDICATIONS AND PROCEDURE OF VERTEBROPLASTY
Vertebroplasty involves the injection of a certain type of cement, polymethyl methacrylate (PMMA), into the body.
The procedure is recommended for neoplastic or osteoporotic vertebral compression fractures.
For people affected by spinal cord tumors, this procedure provides immediate relief. Radiotherapy is usually used to treat these tumors, but it takes a few weeks to achieve the desired effect.
It is also used to treat vertebral hemangioma, a condition where one has severe spinal pain that is focal in nature.
Vertebroplasty
INDICATIONS OF VERTEBROPLASTY
Fracture of the spinal cord.
Persistent pain in the spine.
Having other health problems due to a broken spine.
Osteoporosis.
Breathing problems.
Unable to walk straight
PREPARATION BEFORE VERTEBROPLASTY SURGERY
Some of the following tests are done on the patient before vertebroplasty surgery. First of all, do a physical examination, in which the doctor does a chronic disease history and general examination so that your painful area is thoroughly examined. Apart from this, some other tests can be done using imaging (MRI) or computed tomography scan (CT or CAT scan).
If you take any kind of over-the-counter medicines, then you should tell the doctor. Apart from this, if you have a history of blood diseases or are taking blood-thinning medicine aspirin, or blood clotting medicine, then give complete information to the doctor.
THE STEPS INVOLVED IN THE PROCEDURE OF VERTEBROPLASTY
Pre-process
Before the procedure begins, the doctor takes the patient's detailed medical history. A physical examination is done to check whether the patient is fit to undergo the procedure. The MRI report of the vertebrae will be examined by the surgeon. This is done to detect any significant narrowing of the canal or any signs of infection.
During the process
The process is usually completed within an hour.
The patient is initially given local anesthesia for mild sedation.
The procedure is done on an outpatient basis. After anesthesia is administered, a biopsy needle is injected into the affected vertebra.
The needle is guided by an X-ray through the skin.
A specially designed bone cement that is acrylic in nature is then injected under pressure into the affected vertebra.
In Vertebroplasty, medical-grade cement is injected into the painful area through a needle.
This cement fills the space within the bone and acts as an internal cast.
It helps stabilize the bone. The pore site on the skin is then closed.
Post process
Post-procedure, you will be advised to complete bed rest for 24 hours. After the first 24 hours, physical activity gradually increases. You will be prescribed medicines that you will need to take on a regular basis. This pain can be treated with the help of ice packs.
Most people usually experience less pain within the first two days after the procedure. Compared to the prior procedure, the ability to perform normal routine activities has been said to improve gradually.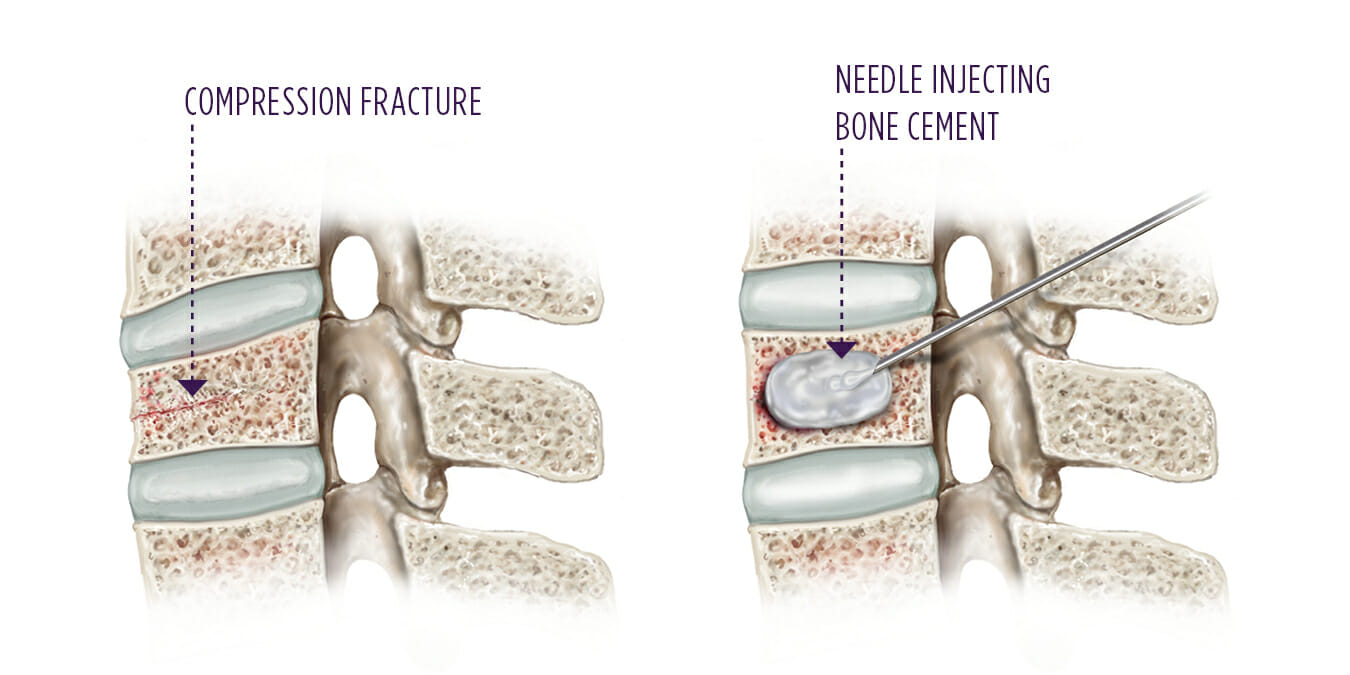 RISK AND COMPLICATIONS OF VERTEBROPLASTY
Complications from this procedure are very rare. However, various complications can include
Bleeding
Infection
Feeling of numbness
Increased back pain
Paralysis
Nerve root compression
Blood clot formation within the nerves
Pulmonary embolism (blood clots in the lungs)
Fracture of the ribs or other adjacent bonesHaving a fever
nerve root irritation.
Having an infection
The cement flows out of the bone before it hardens. Cement can also leak out into the vertebral canal which can cause compression of the spinal cord.
If the patient's vertebral pain lasts for a long time or is facing other conditions and risks, then the doctor should be contacted immediately.
WHAT SHOULD I KNOW BEFORE GETTING VERTEBROPLASTY SURGERY?
First of all, you should make sure that the doctor doing the vertebroplasty procedure has full experience in this technique because it is a very important surgical procedure.
This spinal surgery is a safe treatment for everyone. If a spinal fracture does not heal with other procedures, then this surgery may be the most appropriate procedure for such people. It can be safe for patients of any age. Most patients can undergo this fracture procedure due to underlying osteoporosis, but people who are also prone to this fracture due to tumors [multiple myeloma] can also undergo this surgery. However, people who have only pain but not a spinal fracture should not have this surgery.
CARE AFTER VERTEBROPLASTY SURGERY?
After surgery, the patient will probably be asked to lie on their back for 1 hour, so that the cement hardens by then.
The patient is kept in the observation room for at least one to two hours.
After surgery, the patient gets relief from pain, but it may take up to 72 hours for the pain to subside. If the pain is persistent, your doctor may prescribe over-the-counter pain relievers.
After the surgery, the patient is allowed to go home.
The patient is advised to rest for 24 hours after the surgical procedure.
The patient may have to wear a back brace as needed.
If you are experiencing any kind of problem, then you can contact the doctor for follow up
LIFE BEYOND VERTEBROPLASTY
You will need to take various medicines after surgery to prevent infection. Some lifestyle changes like smoking and alcohol consumption should be controlled. Apart from this, proper exercise is also necessary. Bed rest is done before most of the fractures of the spine so that the pain is completely eliminated. Painkillers, back braces, and physical therapy may also be given. Sometimes surgery is done to save the patient's spine immediately. In this, the help of a bone graft or internal metal device is taken.
VERTEBROPLASTY IS A NEW REVOLUTION FOR PATIENTS WITH SPINE PROBLEM
This new non-surgical treatment called Vertebroplasty is a good option for patients who do not get relief even after giving bed rest, analgesics, and back bracing. With the help of this, the patient can carry out his day-to-day work, as well as avoid taking analgesics. Vertebroplasty proves to be effective in multiple myeloma, hemangioma, and many spinal bone cancers where conventional therapy does not work.
Vertebroplasty is also safe. If you have severe back pain after a fracture (osteoporotic fracture of the vertebra), two weeks of bed rest and pain medications may not be necessary. You can also get vertebroplasty done.
---
If you or anyone you know has suffered from a spinal injury recently, vertebroplasty may help you. Call our spine specialists today on (469) 545-9983 to consult them.