Smoking is related to various chronic pains and diseases, and researchers have also discovered the link between pain and smoking. Individuals who smoke or use vaping devices are likely to experience back pain, especially in the back and joints, it is very common among smokers This commonality made many researchers research the relationship between pain and smoking. There are numerous reasons associated with pain and smoking which include the impact on the vascular system and brain circuitry. People perceive short-term pain relief after smoking due to nicotine which triggers the release of dopamine. Dopamine is a neurotransmitter that gives a feeling of pleasure when it is released into the brain. This feeling of pleasure lasts for a short period of time.
BACK PAIN TREATMENT AT SPECIALTY CARE CLINICS:
For back pain, Specialty Care Clinics provide surgical and non-surgical treatments.
First, our doctors consider nonsurgical options. Our medical team will advise if surgery is required and continue treatment accordingly.
Our doctors are equipped with the knowledge and tools necessary to treat the most difficult back pain conditions.
Call the doctor immediately if you experience severe back pain.
Book an appointment on the homepage of our website or call (469) 545-9983 to book an appointment at Specialty Care Clinics.

DIFFERENT TYPES OF PAIN CAUSED BY SMOKING CIGARETTES DUE TO NICOTINE AND OTHER CHEMICALS:
Back Pain
Joint Pain
Headache
Chest Pain
Stomach Pain
Throat Pain
HOW DO NICOTINE AND OTHER CHEMICALS AFFECT THE BODY OF SMOKERS?
Reduces blood flow to the muscles, bones, and organs by narrowing blood arteries.
Reduces the rate of exchange of carbon dioxide and oxygen in the blood
Healing becomes slow
Increases blood pressure
Increases Fatigue
Pain that stays for longer than three months is called chronic pain. Smoking affects the entire body, not just the lungs, and causes health problems. Pain increases and the body heals more slowly when organs and other tissues aren't working properly.
CAN SMOKING CAUSE BACK PAIN?
Nevertheless, smoking affects the whole body, it specifically targets the back causing chronic pain in the back, especially the lower back. Even after a lot of research, medical studies have failed to prove that smoking causes back pain.
The researchers found a statistical correlation and continued further studies of the link between back pain and smoking. The rate of lower back pain in smokers is higher compared to non-smokers and more smokers experience severe pain.
Current evidence shows how impairment of the vascular system and bone healing is linked with smoking. The spine is built of bones known as vertebrae that are divided by cushioning discs made of an external ring of fibrous cartilage and a soft core. Spinal discs and vertebrae require a healthy supply of nutrient and oxygen-rich blood to counter degeneration.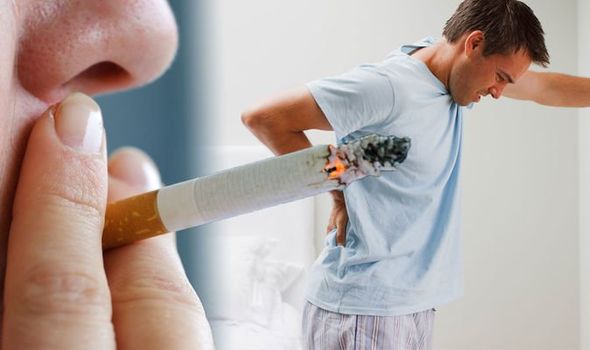 Because of smoking, blood flow decreases as a result blood flow and oxygen do not reach the bones, cartilage, muscles, and other tissues in the required quantity. Spinal discs have limited blood flow already, so depriving them of these elements may cause them to deteriorate at a faster rate than would normally occur during the process of aging.
Smokers are more likely to suffer from illnesses including osteoporosis and lumbar disc disease. Smoking interrupts bone repair, which can result in chronic back pain following an injury or when other back issues arise. Taking into account all of this information, the conclusion is that smokers are more likely to develop chronic back pain.
Smoking causes spinal degeneration all over the spine, not just in the lower back. The same factors that cause smoking-related lower back pain also contribute to upper back discomfort in the spine of smoker patients
Pain in the upper back and chest is one sign of lung cancer, which is caused by smoking in up to 80–90% of cases. A physician should be consulted as soon as possible for an evaluation of chronic upper back pain.
HOW DOES QUITTING SMOKING HELP BACK PAIN?
The smoking habit is an important obstacle to overcome, and quitting smoking pays off by reducing the risk of back pain.
Former daily smokers may continue to endure or develop widespread body discomfort after quitting smoking, including back pain. Serotonin levels in the brain fall after quitting due to nicotine withdrawal. The sensitivity to pain rises as serotonin levels fall. Smokers with chronic pain may be encouraged to cut back gradually or to use nicotine patches to lessen withdrawal symptoms.
Quitting smoking can lessen the neurological and vascular consequences of smoking on the back, but they cannot be completely reversed. Because of the aftereffects of smoking, both current and past smokers are at risk for a variety of disorders, such as low back discomfort and degenerative disc degeneration.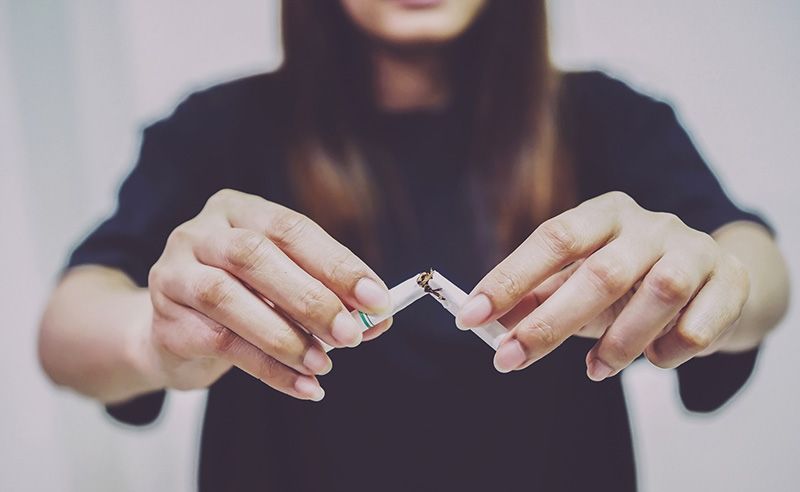 ---
Visit Specialty Care Clinics to manage your back pain, call us at (469) 545-9983 to book an appointment.