Sacroiliitis is a condition where an individual suffers inflammation of one or all sacroiliac joints causing sacroiliac joint (SI) pain radiating pain from the thigh to the back. Sacroiliac pain can mimic other conditions such as disc herniation or hip problems. Accurate diagnosis is important to determine the cause of pain. Physical therapy, stretching exercises, pain relievers, and joint injections are used to initially treat symptoms. Surgery to immobilize the joint and stop painful motion may be recommended.
WHAT IS SI JOINT PAIN?
The SI joint is located between the pelvic bones and the sacrum and connects the spine to the hip joint. The two joints provide support and stability and play an important role in absorbing shock during walking and lifting. When viewed from the back, the SI joint is below the waist and two dimples are visible.
Strong ligaments and muscles support the SI joint. Due to normal body flexibility, the joints have very little movement. As we age, our bones become arthritic and our ligaments become stiff. The bones may rub against one another and cause pain when the cartilage deteriorates. The SI joint is a synovial joint filled with liquid. This type of joint has exposed nerve endings and can cause chronic pain if the joint degenerates or does not move properly.
Sacroiliac joint pain can range from mild to severe, depending on the extent and cause of the injury. Acute ISG pain occurs suddenly and usually resolves within days to weeks. Chronic SI joint pain stays for more than 3 months. It may be felt all the time or may become worse due to certain activities.

WHAT ARE THE SYMPTOMS OF SI JOINT PAIN?
Pain signs and symptoms of SI may begin in the lower back and buttocks and radiate to the lower hips, groin, or thighs. The pain is generally unilateral but can be bilateral. Patients may also experience numbness or tingling in the legs, or weakness in the legs.
Sitting, standing, sleeping, walking, and climbing stairs may worsen symptoms. The SI joint is often painful when sitting or lying on the affected side. Some people have difficulty driving, standing, sitting, or walking for long periods of time. The pain may get worse by transitional movements (sitting to standing), standing on one leg, or climbing stairs.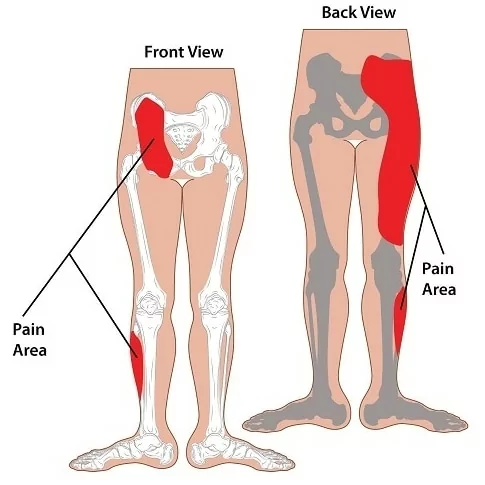 SI JOINT PAIN CARE AT SPECIALTY CARE CLINICS:
Specialty Care Clinic in Texas provides medical care for SI Joint Pain conditions.
Our doctors are well-trained and experienced in diagnosing and treatment of SI joint pain.
Doctors will diagnose the condition and tell if non-surgical or surgical treatment is required.
The surgery takes a few hours and the patient is discharged on the same day or the next day of surgery.
If you have any of the symptoms mentioned above seek medical care to avoid problems in the future.
Book an appointment at the Specialty Care Clinics website or call us at 469-545-9983.
WHAT CAUSES SI JOINT PAIN?
Too loose or too tight ligaments can cause pain in the SI joint. This can occur as a result of falls, workplace accidents, car accidents, pregnancy and childbirth, or hip/spinal surgery (laminectomy, lumbar fusion).
Sacroiliac joint pain can occur when the movements in the pelvis are unequal on both sides. If one leg is longer or weaker than the other, or if you have arthritis due to hip or knee problems, you may experience uneven movement. Autoimmune diseases, such as axial spondyloarthritis, and biomechanical conditions, such as walking shoes after foot/ankle surgery or footwear without support, can lead to degenerative sacroiliac arthritis.
HOW IS SI JOINT PAIN DIAGNOSED?
A physical examination might help identify whether your discomfort is coming from the SI joint. A medical history and physical examination are part of the evaluation. Your doctor will take into account all the details you provide, including any injury history, the location of your discomfort, and any issues with standing or sleeping.
To ascertain whether the SI joint is the source of discomfort, there are particular tests available. You could be asked to stand or move about while indicating the location of your pain. In order to check for soreness over your SI joint, your doctor may twist your joints.
To aid with the diagnosis and to search for further spine and hip-related issues, imaging procedures such as X-rays, CT scans, or MRIs may be prescribed.

WHAT ARE THE TYPES OF TREATMENTS AVAILABLE FOR SI JOINT PAIN?
Non-Surgical Treatments: Numerous people benefit from stretching exercises, physical therapy, and chiropractic adjustments. Some people might need to take oral anti-inflammatory drugs, use patches, lotions, or salves topically, or use mechanical bracing.
Surgical Treatment: If nonsurgical treatments and joint injections do not relieve pain, your doctor may recommend minimally invasive surgery to strengthen your SI joint. Through small incisions, surgeons place titanium (metal) implants and bone graft substitutes to stabilize the joint and promote bone growth. The operation takes about 1 hour. Patients can go home the same day or the next day. For several weeks after surgery, the patient cannot bear weight on the surgical side and must use crutches for support.
Joint Injection: The swelling and inflammation of the nerves can be reduced with steroids. A corticosteroid and an analgesic-numbing substance are injected into the sore joint during a minimally invasive technique known as a joint injection. Although the effects are often transient, the injections can be repeated up to three times per year if they are beneficial.
Nerve ablations: Injections into joints and nerves are sometimes called "blocks." Successful SI joint injections may indicate that they may benefit from radiofrequency ablation. This is a procedure that uses an electrical current to destroy the nerve fibers that carry pain signals within the joint.
HOW TO PREVENT SI JOINT PAIN?
Lift weight properly
Sit, stand, move and sleep with a correct posture.
Do Regular exercise and stretching.
Work in an ergonomic workplace.
Eat good nutrition for a healthy weight and keep a lean body mass.
Exercise stress management and relaxation techniques.
---
Get treatment for SI Joint Pain from experienced doctors at Specialty Care Clinics, book an appointment through the website or call us at 469-545-9983.