Opdivo and Yervoy, this combination is paired by science to help destroy tumor cells. Opdivo (nivolumab) is a prescription medicine used to treat patients who have cancer of the lining of the urinary tract and Yervoy (ipilimumab) is a prescription medicine used to prevent adults from melanoma.
The combination is the first treatment for an advanced stage of lung cancer (non-small cell lung cancer) in adults. The condition where lung cancer has spread to other parts of the body and tumors are positive for PD-L1 but have no abnormal EGFR (Epidermal Growth Factor Receptor) or ALK (Anaplastic Lymphoma Kinase) gene.

OPDIVO AND YERVOY WORKING AND DEFENDING TOGETHER
T cells are a type of lymphocyte and are part of the immune system that protects from foreign particles. In immunotherapy, T cells get activated to provide protection from cancer cells.
These cells are already present in our bodies. Cancer cells hide and disturb the working of T cells by inactivating them. The role of both these drugs (opdivo+yevroy) is to activate T cells by joint forces. The individual work of Yervoy is to generate active T cells and Opdivo is to help active T cells in the identification of cancer cells that are hiding.
With the help of Opdivo and Yevroy, it is possible to generate more active T cells and destroy cancer cells. The usage of Yevroy drug in immunotherapy for lung cancer can also convert induced active T cells into memory T cells that can fight the threat in the future too.

COMMON SIDE EFFECTS OF OPDIVO + YEVROY COMBINATION
Side effects of the combination can be common as well as serious.
Diarrhea
Rashes
Itching
Vomiting
Nausea
Fatigue
Dizziness
Pain
Infection
Headache
Pain in muscles, bones, and joints
High temperature/fever
Cough
Low thyroid hormones level
Abdominal pain
Decreased appetite
Breathing problem
Upper respiratory tract
Constipation
Weight loss (decrease)
Along with common side effects, opdivo and yevroy has some serious side effects too:
Lung problems
Intestinal problems
Liver problems
Kidney issue
Eye problem
Skin defect
Some serious infusion reaction

HOW IS OPDIVO AND YEVROY COMBINATION CONTROLLED?
Opdivo and Yevroy combination is controlled by slow-occurring infusion over at least 30 minutes – this is when a bag filled with the medicine is hung from a stand (mostly known as an IV stand), and then medicine flows through a piece of tubing that is known as an intravenous line into your vein. This needs to be performed in the doctor's office, an infusion center, or a hospital.
Both opdivo and yevroy are controlled for the first dose for every condition like on-small cell lung cancer, melanoma, and advanced kidney cancer, but they are not administered simultaneously but separately, and every condition takes about 30 to 90 minutes individually.
HOW LONG IT TAKES FOR OPDIVO AND YEVROY TO START WORKING?
It takes time for immunotherapy to work compared to other chemotherapies since firstly it starts by finding cancer cells and attacking/killing them. Opdivo helps the immune system look for cancer cells and also helps to destroy these cancer cells.
In clinical trials, researchers analyzed the time in which opdivo medication started to respond. It is different for different conditions of cancer. For example;
For Melanoma, it takes around 2.1 months for opdivo
For Renal Cell Carcinoma, 2.8 months for a combination
For Urothelial Carcinoma, with opdivo for around 2.0 months
For Squamous Cell of the head and neck, 2.1 months are approx
With the help of the periodic test, the doctor can find out if the therapy is working or not. These tests are Computed Tomography (CT), Positron Emission Tomography (PET), and Magnetic Resonance Imaging (MRI).
EFFECTIVENESS OF OPDIVO AND YEVROY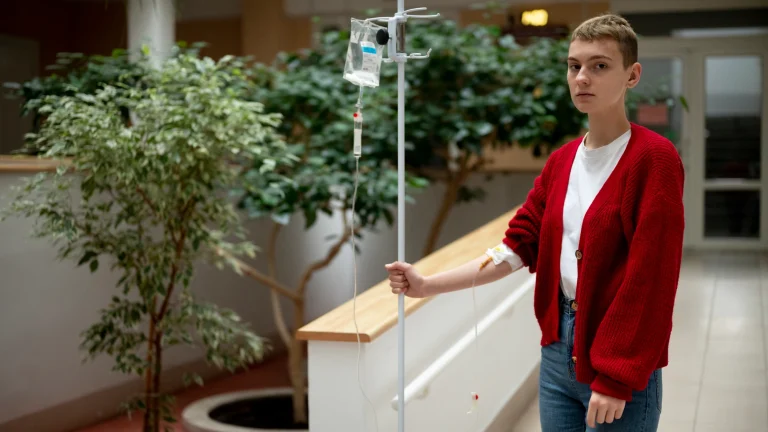 The effectiveness of opdivo and yevroy depends on different types of cancer, their condition in patients, and also patients' medical history.
Opdivo with yevroy is approved as a combination by Food and Drug Administration (FDA) to treat certain cancers (metastatic non-small cell lung cancer) in adults. The cancer tumor has PD-L1 and does not have abnormal EFGR or ALK genes.
PL-L1 is a protein that is found in lung cancer cells and its presence shows cancer will respond to immunotherapy. In clinical trials, it showed a 20% chance as compared to chemotherapy. And after 4 years of span, 29% of people were alive as compared to 18% of chemotherapy. In short, people live longer with the treatment of Opdivo and yevroy rather than chemotherapy.
Now it is possible with Opdivo and Yevroy to add more years to your life after treatment of non-small cell lung cancer with this combination.
Specialty Care Clinic helps you with your whole treatment procedure and also provides necessary guidance. Call us at (469)545-9983 and book an appointment now.
---