You're not the only one who has missed time from work due to back pain. Back discomfort, which affects four out of five people at some point, is the second most prevalent cause of doctor visits.
Back pain can appear in a variety of ways, ranging from a persistent dull ache to a sudden, sharp agony. It can also happen due to a fracture, sprain, or other unintentional harm. It may result from a sickness or health issue such as spinal stenosis, fibromyalgia, or arthritis (a narrowing of the spinal canal through which the spinal cord runs). The fact that many people are overweight or inactive contributes to the development of back discomfort.
The good news is that surgery is rarely necessary because most lower back discomfort subsides typically within a few days or weeks.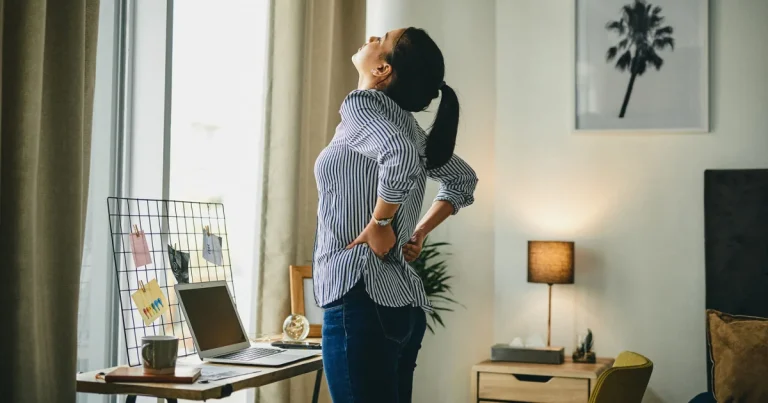 HOW TO REDUCE BACK DISCOMFORT AT WORK BY ESTABLISHING THE CORRECT WORKPLACE
Ergonomics and enhancing your posture, and back pain at work can be avoided.
Safe movement techniques help stop back pain in its tracks.
Increasing your exercise level and adopting a healthier lifestyle can provide some relief if back pain does start to appear.
Take into account these suggestions for reducing office back pain if you wish to prevent or manage back discomfort at work.
RISKS ASSOCIATED WITH STATIONARY WORK
Long lengths of time in a seated position are frequently linked to back pain. The average period the body should be in one place is 20 minutes. Aches and pains might develop when movement is limited because more muscle groups are stressed.
The back muscles and soft tissues may lose some of their suppleness over time, making the area more prone to injury. By initially considering this idea, you can reduce back pain.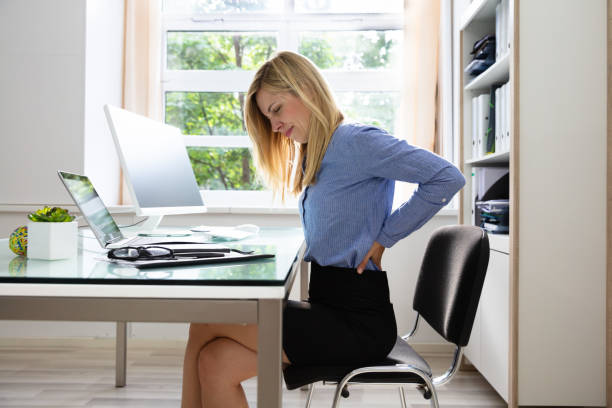 REDUCE BACK PAIN
Preventing the strains and injuries that cause pain is necessary to reduce back discomfort. Posture and ergonomics are the keys to preventing back discomfort at work, regardless of whether you have a desk job or engage in physically demanding activities. Be sure to regularly break if you're standing or sitting in one area for extended periods of time. Rise, take a few steps, and stretch. Think about utilizing a standing desk.
If a standing desk is not practicable, select an ergonomic desk chair that allows you to sit with your thighs slightly inclined down to relieve strain on your hips and provides enough lower back support.
It's critical for laborers to pay attention to their movements, lifting, and carrying techniques. Avoid bending forward when carrying heavy objects and lift with your legs. When moving large or heavy objects, whenever it is possible, think about getting assistance.
---
Taking care of your neck and back will guarantee years of pain-free, healthy work. Simple adjustments to your daily routine can lower the risk of back discomfort at work, contact Specialty Care Clinics at (469) 545-9983 If the pain lasts long more than a week.