Mumps is caused by the mumps virus and it attacks the salivary glands (parotid glands). The salivary glands are located near your ears.
When you contract mumps from someone, the main symptom is that the salivary glands get swollen. The disease can spread to other people by saliva, nasal secretions, and close contact.
The most effective method of controlling the spread of mumps is vaccinating your kids against mumps.
WHAT ARE THE SYMPTOMS OF MUMPS?
After 2-3 weeks of exposure to the virus, the following symptoms start showing up –
Fever
Headache
Swelling of salivary glands
Muscle ache
Fatigue
Loss of appetite
Mumps is highly contagious and therefore it's advised to isolate yourself or your child if you're sick with mumps.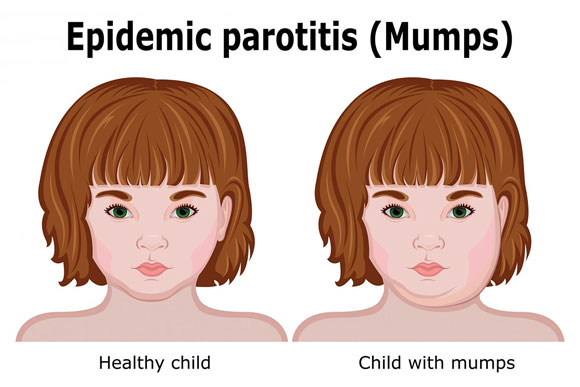 WHAT ARE THE COMPLICATIONS OF MUMPS?
Some of the complications of mumps are –
Men can suffer from orchitis, in which their testicles get swollen. It can be extremely painful & lead to sterility.
Your brain can get swollen (encephalitis) and can lead to death.
If the mumps virus crosses the blood-brain barrier, it can cause meningitis.
It can also cause pancreatitis and vomiting.
It can cause hearing loss, miscarriage and heart problems.
WHAT IS THE TREATMENT FOR MUMPS?
Since mumps is a virus, antibiotics don't work on mumps. We can however, manage the symptoms of mumps by doing the following things –
Take rest.
Painkillers like ibuprofen & acetaminophen treat your fever & jaw pain.
Apply ice packs to the sides of your face.
Eat soft foods like yogurt & fruits & have a liquid diet.
In a couple of weeks, mumps usually get better and you can return to normal life. Once you've gotten better, usually, you don't get mumps a second time.
THE BEST WAY TO PREVENT MUMPS
The best way to prevent your children from getting mumps is to vaccinate them with the MMR vaccine (measles-mumps-rubella). The first dose is given to infants between the ages of 12-15 months, and the second shot is given to children between the ages of 4 to 6 years.
Call us today at 469-545-9983 if you or anyone you know wants to get vaccinated for measles, mumps and rubella.
---