WHAT IS THYROID STIMULATING HORMONE?
TSH (Thyroid Stimulating Hormone) is a glycoprotein hormone that is produced by the anterior pituitary (The pituitary gland is present in the brain). It acts as a primary stimulus with a source as the thyroid gland for the production of thyroid hormone. This hormone triggers the thyroid gland to produce its own hormones namely; thyroxine (T4) and triiodothyronine (T3). They are responsible to maintain metabolic rate.
Metabolic rate is the speed at which the body converts food into energy and then utilizes it.
Thyroid Stimulating Hormone is a peptide hormone that controls alpha and a beta chain
Triiodothyronine or T3 contributes only 20% of released hormones whereas thyroxine or T4 contributes 80% of the secreted hormones.
Peripheral conversion of T4 releases T3, when the circular method is called de-iodination.
WHAT IS THE THYROID STIMULATING HORMONE TEST?
A TSH test is a blood test that measures the thyroid-stimulating hormone. If found the levels of TSH are too low or too high then it could be related to a thyroid problem. The thyroid gland secretes hormones that control our whole body's energies.
A person with no symptoms or under or overactive thyroid has a value between 0.4 to 4.0 mIU/L.
And if checked for thyroid disorder then this value can be 0.5 and 2.0 mIU/L.
For women, this value is between 0.4-2.5 mIU/L but women who are pregnant have a strict upper limit.
5.0 mIU/L is considered a dangerously high level of hormones which means low thyroid.
Every organ of the body is affected by the thyroid hormone.
Thyroid hormones are controlled by thyroid stimulating hormones (TSH) which are secrets by the pituitary gland in the brain and then ultimately regulate the energy.

WHAT CAN BE THE CAUSES OF THYROID PROBLEMS?
These problems can be caused by
Iodine deficiency
Autoimmune diseases
Inflammation
Nodules
Cancerous tumors
Some genetical disorders
Here, autoimmune diseases lead to hyperthyroidism or hypothyroidism. Sometimes, pregnancy can also cause thyroid problems which can turn out to be dangerous if not treated early.
WHY YOU SHOULD GO FOR THE TSH TEST?
When you have symptoms either too low or too high then it could lead to a thyroid problem. TSH (Thyroid Stimulating Hormone) test identifies the level of these hormones in your blood.
What are these symptoms let's see:
Weight loss, even though your diet is heavy
Faster or irregular heartbeat
Nervousness or irritability
A lot of sweating or sensitivity toward heat
Unable to sleep
Shaking of hands
Fatigue
Bowel movements frequently
Goiter (enlargening of the thyroid)
These above-mentioned symptoms come under Hyperthyroidism i.e. too many hormones. This accelerates body function.
Fatigue
Weight gain
Joint or muscle pain
Sensitive towards cold
Drying of skin
Dry or thin hair
Constipation
Irregular menstrual cycles
Depression
Now, these symptoms are Hypothyroidism i.e. too little level of hormones. This slows down the functions.
TSH test is also included in combination with other tests.

HOW TSH TEST IS PERFORMED?
This test is done just like any other blood test. A blood sample is taken from the veins of your hand, and for that, a small needle is injected through your skin with a hinge of pain like a pinch nothing more.
TREATMENT FOR UNBALANCED HORMONES
After the detection of symptoms, if recognized as a lower level of hormones or underactive thyroid then as per prescription, pills are given synthetically to increase the thyroid hormones. This results in the normalization of hormone levels and also reduces the related symptoms like tiredness and weight gain.
These pills are given under the prescription of a doctor with regular monitoring of the correct dosage for 2 or 3 months and after the right dosage, it continues for years with early or monthly check-ups.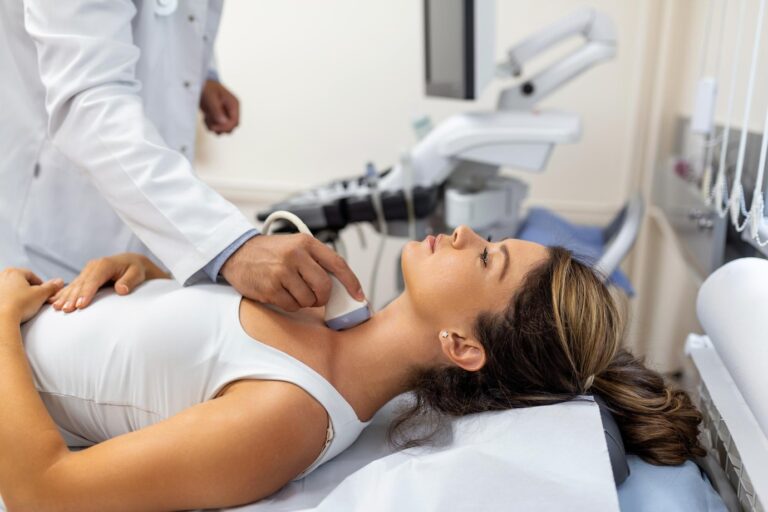 In the case of overactive hormones, treatment may include;
Radio-active iodine (slower downs the thyroid)
Anti-thyroid medications
Beta-blockers (reduces rapid heart rate)
Surgery to remove thyroid which is not very usual
If you are looking for clinics that provide these services Specialty Clinic is present for you. Here, you can get a TSH test as well as the required treatment.
---
Looking for a lab to get a Thyroid Stimulating Hormone Test, we at Specialty Care Clinic provide services to conduct the test.
To book an appointment call us at 469-545-9983.