Diabetes is a chronic condition that can affect the body, including the skin. Changes in blood sugar levels can lead to several skin-related complications. In this article, we will explore how diabetes can affect your skin and discuss important care strategies to maintain healthy skin.
At Specialty Care Clinics, we offer comprehensive diabetes treatment services to help individuals effectively manage their conditions and improve their overall health. Our team of experienced healthcare professionals is dedicated to providing personalized care, tailored treatment plans, and ongoing support to ensure optimal outcomes.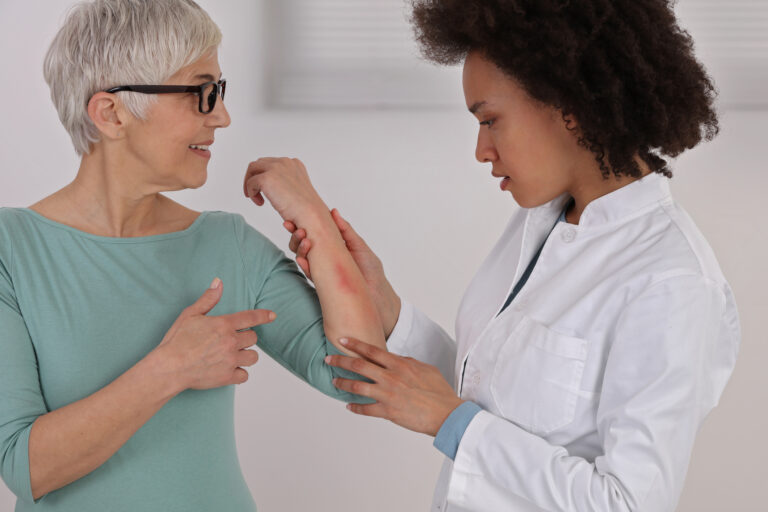 DIABETES AND SKIN COMPLICATIONS:
Diabetes can result in several skin complications due to its impact on blood circulation, nerve damage, and impaired immune function. Understanding these complications is crucial for effectively managing skin health. Common skin conditions associated with diabetes include diabetic dermopathy, diabetic blisters, and an increased risk of skin infections. By recognizing these issues, individuals with diabetes can take proactive steps to prevent and manage skin complications.
DIABETIC DERMOPATHY: CAUSES, SYMPTOMS, AND TREATMENT:
Diabetic dermopathy is a common skin condition characterized by light brown or reddish oval patches, typically found on the shins. It is believed to result from changes in small blood vessels. We will explore the causes, symptoms, and treatment options for diabetic dermopathy, including the importance of maintaining stable blood sugar levels and proper wound care.
DIABETIC BLISTERS: UNDERSTANDING CAUSES AND CARE:
Diabetic blisters, also known as bullosis diabeticorum, are fluid-filled blisters that can develop on the skin of people with diabetes. We will delve into the underlying causes of diabetic blisters, such as diabetic neuropathy and poor blood sugar control. Additionally, we will provide insights into proper care and prevention strategies to reduce the risk of blister formation.
SKIN INFECTIONS AND DIABETES: PREVENTION AND TREATMENT:
Individuals with diabetes are more susceptible to skin infections due to compromised immune function. Common infections include cellulitis, styles, and fungal infections. We will discuss the causes, symptoms, preventive measures for these infections, and treatment options to address them effectively.
DIABETIC NEUROPATHY: IMPACT ON SKIN HEALTH:
Diabetic neuropathy, a condition resulting from nerve damage caused by diabetes, can affect the skin. We will explore the impact of diabetic neuropathy on skin health, including increased vulnerability to injuries, reduced sensation, and delayed wound healing. Implementing preventive measures and seeking appropriate care is crucial for managing diabetic neuropathy-related skin issues.
DRY SKIN AND DIABETES: MANAGEMENT TIPS:
Dry skin, or xerosis, is a common problem for individuals with diabetes. We will provide practical tips for managing and preventing dry skin, including proper hydration, gentle cleansing, and regular moisturizing. These strategies can help alleviate discomfort and reduce the risk of skin complications.
SKIN CARE TIPS FOR PEOPLE WITH DIABETES:
Proper skin care is essential for individuals with diabetes. We will offer practical tips and recommendations, such as using mild soaps, avoiding hot water, and regularly inspecting the skin for signs of infection or injury. Additionally, we will emphasize the importance of protecting the skin from extreme temperatures and sun exposure.
THE IMPORTANCE OF BLOOD SUGAR CONTROL:
Maintaining stable blood sugar levels is paramount in preventing and minimizing skin complications associated with diabetes. We will highlight the significance of regular blood sugar monitoring, medication adherence, and lifestyle modifications for optimal skin health.
Diabetes can have a significant impact on the health of your skin. By understanding the potential complications and implementing appropriate care strategies, you can minimize the risks and maintain healthy skin. Regular communication with your healthcare team and following a comprehensive diabetes management plan are key to preventing and managing skin-related issues associated with diabetes.
From diabetes education and lifestyle modifications to medication management and monitoring, we are committed to empowering our patients to take control of their health and lead fulfilling lives. Contact us at (469) 545-9983 to learn more about our diabetes treatment services and schedule an appointment.
---